< RETURN TO MUSIC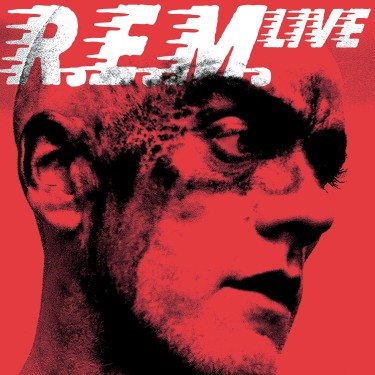 R.E.M. LIVE
I Took Your Name (live)

So Fast, So Numb (live)

Boy In The Well (live)

Cuyahoga (live)

Everybody Hurts (live)

Electron Blue (live)

Bad Day (live)

The Ascent Of Man (live)

The Great Beyond (live)

Leaving New York (live)

Orange Crush (live)

I Wanted To Be Wrong (live)

Final Straw (live)

Imitation Of Life (live)

The One I Love (live)

Walk Unafraid (live)

Losing My Religion (live)

What's The Frequency, Kenneth? (live)

Drive (live)

(Don't Go Back To) Rockville (live)

I'm Gonna DJ (live)

Man On The Moon (live)
LINER NOTES:
Filmed Live at The Point Depot,
Dublin on 26th and 27th February 2005.
R.E.M.:
Peter Buck: guitars
Mike Mills: bass guitar_keyboards_backing vocals
Michael Stipe: vocals
Supporting musicians:
Scott McCaughey: guitars_keyboards
Ken Stringfellow: keyboards_guitars
Bill Rieflin: drums
Special guest appearance by
Daniel Ryan of The Thrills on (Don't Go Back To) Rockville. Daniel Ryan appears courtesy of Virgin Records/EMI.
Advisor: Bertis Downs
Tour Manager: Bob Whittaker
Production Manager: Dick Adams
Assistant: George Werner
Accountant: Craig Sneiderman
Band Assistants: David Belisle/Brian Orloff
Band Security: Mark (Rangi) Williamson/Uriel Vega
Stage Manager: Steve Gordon
Lighting Designer: Susanne Sasic
Lighting Technician: Will Anglin
FOH Engineer: Brett Eliason
Sound Technician: Allan Bagley
Monitor Technicians: George Squiers/Peter Baigent
Bass/Keys Tech: Bob Weber
Guitar Technician: Dewitt Burton
Drums Technician: Andy Wolf
Carpenter: Leff Carroll
Rigger: Dano Rowley
Lighting: Bandit Lighting
Sound: Britannia Row
Screens: XL Video
R.E.M. Office:
Meredith Williams
Mercer Brockenbrough Davis
Kevin O'Neil
Sarah Petit Frierson
Chris Bilheimer
David Bell
Amy Hairston
Dublin Show Promoter: Denis Desmond, MCD
Promoter's Rep: Aiden Lee
Show Production Manager: Paddy Soper
Video Screens Director: Blue Leach
Video Engineer: Richard Parkin
Camera Supervisor: Jon Shrimpton
Camera Operators:
Freddie de Bailly
Andy Barr
Rob Wicks
Donal Gilligan
Gerry McArthur
Owen Corcoran
Joe Edwards
Martin Birney
Ross O'Callaghan
Tim Fleming
Key Grip: Paul Tsan
Grip: Howard Woods
Camera Assistants: Joey Hoey/Gavin O'Reilly
Production Facilities: The Production Depot, Dublin
Production Runners: Dearbhaile O'Hanlon/Rachel O'Kane
Audio Supervisor: Tim Summerhayes
Audio Technician: Ollie Nesham
Audio Engineer: Matt Wood
Audio Remix Engineer: Brett Eliason
Dubbing Mixer: David Woolley
Offline Editors: Stuart Robertson/Mark (Reg) Wrench
Online Editor: Tam Osman
Colourist: Adrian Seery
Production Managers: Mary McCarthy/Kate Sinden
Producer: Emer Patten
Director: Blue Leach
Packaging Photography: David Belisle
DVD Post Production: David May/Raena Winscott
DVD Authoring: Jim Atkiins for Media Services
A Splinter Films Production for R.E.M./Athens, L.L.C.