< RETURN TO MUSIC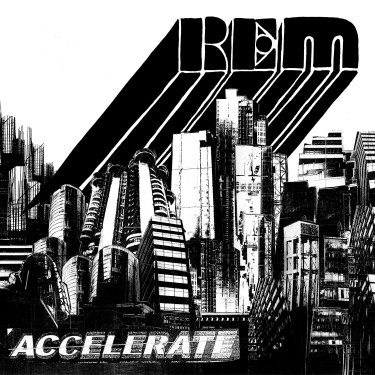 ACCELERATE
Living Well Is The Best Revenge

Man-Sized Wreath

Supernatural Superserious

Hollow Man

Houston

Accelerate

Until The Day is Done

Mr. Richards

Sing For The Submarine

Horse To Water

I'm Gonna DJ
LINER NOTES:
Produced by Jacknife Lee & R.E.M.
Mixed by Jacknife Lee
Engineered by Tom McFall and Sam Bell
R.E.M.
Peter Buck, Mike Mills, Michael Stipe
Advisor:
Bertis Downs
Additional Musicians:
Scott McCaughey
Bill Rieflin
Technical Assistance:
DeWitt Burton
Bob Whittaker
Office:
Kevin O'Neil, Sarah Petit Frierson, Chris Bilheimer, Mercer
Brockenbrough Davis, David Bell, Amy Hairston
Packaging:
Chris Bilheimer & Michael Stipe
Recorded:
Armoury Studios, Vancouver, BC
Assistant Engineer: Rob Stefanson
Second Assistant: Jarrod Nestibo
Grouse Lodge Studios, Co. Westmeath, Ireland
Assistant Engineer: Dani Castelar
Second Assistant: Owen Lewis
Seney-Stovall Chapel, Athens, GA
Assistant: Brannen Miles
Technical Assistance: Jacqueline Burton
Additional recording:
The Olympia Theatre, Dublin
Mike's music room, Athens, GA
Mixed:
Garage in Kent
The Hospital, Covent Garden, London
Mix engineer: Sam Bell
Assistant Engineer: Simon Wall
Second Assistant: Bethina Beadman
Mastered:
Alchemy Soho, London
Mastered by John Davis
All Songs Buck, Mills, Stipe
© 2008 Temporary Music (BMI)
Temporary Music administered in all worlds, now known and hereafter devised, by Warner/Tamerlane Publishing Corp.
Scott McCaughey appears courtesy of Yep Roc Records.