< RETURN TO MUSIC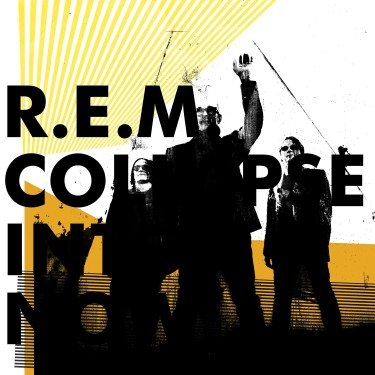 COLLAPSE INTO NOW
Discoverer

All The Best

Uberlin

Oh My Heart

It Happened Today

Every Day Is Yours To Win

Mine Smell Like Honey

Walk It Back

Alligator Aviator Autopilot Antimatter

That Someone Is You

Me, Marlon Brando, Marlon Brando And I

Blue
LINER NOTES:
Produced by Jacknife Lee for Big Life Management and by R.E.M.
Mixed by Jacknife Lee
Engineered by Tom McFall & Sam Bell
Mix Engineer: Sam Bell
R.E.M.
Peter Buck, Mike Mills, Michael Stipe
Advisor:
Bertis Downs
Musicians:
Scott McCaughey – guitars, keyboards, accordion, vocals
Bill Rieflin – drums, bouzouki, keyboards, guitar
Jacknife Lee – keyboards, guitar
Joel Gibb – vocals on IT HAPPENED TODAY
Lenny Kaye – guitar on BLUE, guitar solo on ALLIGATOR_AVIATOR_AUTOPILOT_ANTIMATTER
Peaches – vocals on ALLIGATOR_AVIATOR_AUTOPILOT_ANTIMATTER
Patti Smith – vocals on BLUE and DISCOVERER
Eddie Vedder – vocals on IT HAPPENED TODAY
Horns on OH MY HEART, IT HAPPENED TODAY, DISCOVERER:
Shamarr Allen – trumpet
Leroy Jones – trumpet
Kirk M. Joseph, Sr. – sousaphone
Bonerama Horns:
Craig Klein – trombone
Mark Mullins – trombone and horn arrangements
Greg Hicks – trombone
Technical Assistance:
DeWitt Burton
Bob Whittaker
Office:
Kevin O'Neil, Sarah Petit Frierson,
Chris Bilheimer, Mercer Brockenbrough Davis,
David Bell, Amy Hairston
Packaging:
Chris Bilheimer & Michael Stipe
Photography:
Anton Corbijn
Recorded:
Jackpot! Studio, Portland-Demos
Engineer: Tucker Martine
The Music Shed, New Orleans
Assistant Engineer: Kyle Lamy
Second Assistant: Billy Moesta
Hansa Tonstudio, Berlin
Assistant Engineer: David Hefti
Second Assistant: Marc Müller
Blackbird Studios, Nashville
Assistant Engineer: John Netti
Mastered:
Stephen Marcussen, Marcussen Mastering
All Songs Buck, Mills, Stipe ©2010 Temporary Music (BMI),
except
OH MY HEART (Buck, Mills, Stipe, McCaughey)
©2010 Temporary Music (BMI), MacNor Music (BMI)
and
BLUE (Buck, Mills, Stipe, Smith)
©2010 Temporary Music (BMI), Druse Music Inc. (ASCAP).
Temporary Music administered in three dimensions
by Warner/Tamerlane Publishing Corp.
MacNor Music administered by Bug Music.
Druse Music Inc. administered by
Carroll, Guido & Groffman, LLP, attention: Karen Pals.
Craig Klein and Shamarr Allen
appear courtesy of Threadhead Records.
Scott McCaughey appears courtesy of Yep Roc Records.
Patti Smith appears courtesy of Columbia Records.
Eddie Vedder appears courtesy of himself.
Peaches  appears courtesy of  PEACHES