< RETURN TO MUSIC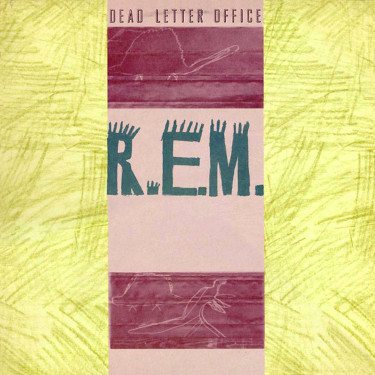 DEAD LETTER OFFICE
Crazy

There She Goes Again

Burning Down

Voice Of Harold

Burning Hell

White Tornado

Toys In The Attic

Windout

Ages Of You

Pale Blue Eyes

Rotary Ten

Bandwagon

Femme Fatale

Walter's Theme

King Of The Road
LINER NOTES:
R.E.M.
Mike Mills Bass/Vocals
Bill Barry Drums/Vocals
Peter Buck Guitar
Michael Stipe Vocals
POST SIDE
CRAZY
A Song by Pylon. I remember hearing their version on the radio the day that Chronic Town came out and being suddenly depressed by how much better it was than our record.
Outtake from Fables of the Reconstruction.
THERE SHE GOES AGAIN
One of several Velvet Underground songs that we've recorded. It was recorded live to two track with Mitch Easter playing acoustic guitar into the same mic as myself. I remember that I had to step forward to play the solo, just like Bill Monroe.
Outtake from Murmur.
BURNING DOWN
This is another early song that we just got tired of.
Recorded for Reckoning, remixed by Steve Fjelstad a year later.
VOICE OF HAROLD
This is the backing track to Seven Chinese Brothers with, um, well, extemporaneous lyrics added by Michael in one take.
Outtake from Reckoning
BURNING HELL
Sometimes you write a song without even trying to. Sometimes those songs are the very best ones. That's not quite the case this one however.
Outtake from Fables of the Reconstruction
WHITE TORNADO
We wrote this song the same afternoon we wrote Radio Free Europe, I think. This is an unreleased version recorded at Mitch Easter's Drive-In Studio at the same time as out first single on Hibtone.
TOYS IN THE ATTIC
If you grew up in the seventies you liked Aerosmith. This one is always fun to play live.
Outtake from Lifes Rich Pageant.
SCRIPT SIDE
WINDOUT
This is one of our earliest songs, written in the summer of 1980. We recorded it for our second album. In retrospect, I think that it would have fit on Reckoning very well, but at the time we decided not to included it.
> a soundtrack that shall remain nameless.
AGES OF YOU
This is kind of a companion piece to Burning Down. When we got tired of that song, we kept the two pieces that we like and rewrote the rest to come up with Ages of You. We got tired of that one also.
Recorded for Reckoning, also remixed by Steve.
PALE BLUE EYES
This is one of my favorite Lou Reed songs. Michael changed the lyrics considerably and I added an exceedingly sloppy solo.
Recorded live to two track and is an outtake from Reckoning.
ROTARY TEN
A movie theme without a movie.
Outtake from Lifes Rich Pageant.
BANDWAGON
This song was originally called "the fruity song" because of all the stupid chord changes. Still one of the funniest songs we've written. Outtake from Fables of the Reconstruction.
FEMME FATALE
The third of our Velvet Underground covers. Recorded live to two track the same hour as Pale Blue Eyes.
Both outtakes from Fables of the Reconstruction.
WALTERS THEME
KING OF THE ROAD
I suppose if we had any shame we would have never allowed this little gem to see the light of day. This was recorded at the very end of a long alcohol soaked day, and I can barely remember cutting it. This first part was an attempt at writing a commercial for Walter's Bar-B-Q. The second part is King of the Road, kind of. If there was any justice in the world, Roger Miller should be able to sue for what we did to this song.