< RETURN TO MUSIC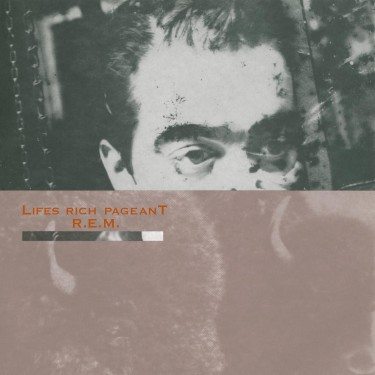 LIFES RICH PAGEANT
Begin The Begin

These Days

Fall On Me

Cuyahoga

Hyena

Underneath The Bunker

The Flowers Of Guatamala

I Believe

What If We Give It Away?

Just A Touch

Swan Swan H

Superman
LINER NOTES:
R.E.M.
Mike Mills Bass/Vocals
Bill Berry Drums/Vocals
Peter Buck Guitar
Michael Stipe Vocals
ALL SONGS:
Berry Buck Mills Stipe
AMBASSADOR:
J.W. Holt
MOTIVATIONS:
B.E. Downs IV
ROVING COUNCILOR:
G. P. Trump
PLUS:
The Righteous S.L. Phipps E. M. Hammond
LIAISON:
Curtis Goodman
STRING KEEPER:
Microwave
BACK COVER PAINTING:
Juanita Rogers
COLOSSAL PACKAGING ASSISTANCE:
R. O. Scarselli
BAND PHOTO:
S. L. Phipps From the film "Athens inside-out".
BLINK DRAWINGS:
B. Slay
STICK DRAWING:
M. Bird
PRODUCED BY:
Don Gehman
RECORDED AND MIXED BY:
Gregg Edward and Don Gehman
MASTERED BY:
Bob Ludwig at Masterdisc, New York
RECORDED AT:
the Belmont Mall, Belmont Indiana
ADDITIONAL ENGINEERING:
Ross Hogarth
ASSISTANT ENGINEER:
Rick Fetig
MIXED AT:
Can-Am Recorders, L.A. Calif.
ASSISTANT ENGINEER:
Stan Katayama, Jim Dineen
ADDITIONAL:
Image Recorders, L. A. Calf.