< RETURN TO MUSIC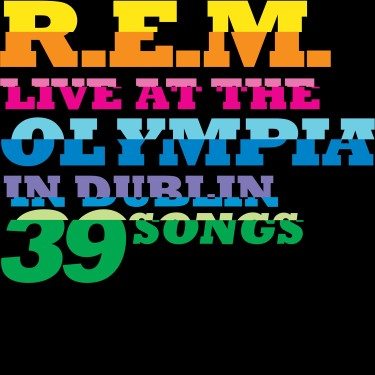 R.E.M. Live At the Olympia
Living Well is the Best Revenge

Second Guessing

Letter Never Sent

Staring Down the Barrel of the Middle Distance

Disturbance at the Heron House

Mr. Richards

Houston

New Test Leper

Cuyahoga

Electrolite

Man-Sized Wreath

So. Central Rain

On The Fly

Maps and Legends

Sitting Still

Driver 8

Horse To Water

I'm Gonna DJ

Circus Envy

These Days

Drive

Feeling Gravitys Pull

Until the Day is Done

Accelerate

Auctioneer

Little America

1,000,000

Disguised

The Worst Joke Ever

Welcome to the Occupation

Carnival of Sorts (box cars)

Harborcoat

Wolves, Lower

I've Been High

Kahoutek

West of the Fields

Pretty Persuasion

Romance

Gardening at Night
LINER NOTES:
Bonus Edition contains the DVD This Is Not A Show
Produced by Jacknife Lee and R.E.M.
Recorded by Tom McFall and Jacknife Lee
Mixed by Jacknife Lee and Sam Bell
Mastered by Steve Marcussen, Marcussen Mastering
R.E.M.
Peter Buck: guitars
Mike Mills: bass guitar, keyboards, backing vocals
Michael Stipe: vocals
Supporting Musicians:
Scott McCaughey: guitars, backing vocals
Bill Rieflin: drums
FOH Engineer: Joe O'Herlihy
Monitors: Paul Mini Moore
Backline: DeWitt Burton & Bob Weber
Stage Manager: John "Shoes" Brogan
Local Production: Eamonn Ryan
Tour Manager: Bob Whittaker
R.E.M. Office: Kevin O'Neil, Sarah Petit Frierson,
Chris Bilheimer, Mercer Brockenbrough Davis,
David Bell, Amy Hairston
A&R: David May, Lisa Nupoff
Booking Agent: Bob Gold, Gold Artists Agency
Accounting: Tom Scott, Trinity Accounting Group
Legal: Gregg Harrison, Don Passman & Helen Stotler,
Gang, Tyre, Ramer and Brown
Art Direction: Chris Bilheimer & Michael Stipe
To Denis Desmond, MCD, our grateful appreciation.
Special thanks to all the good people at the Olympia Theatre.
Advisor: Bertis Downs