< RETURN TO MUSIC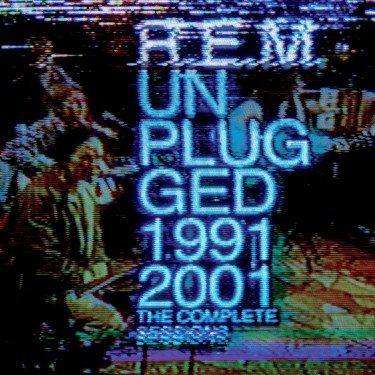 UNPLUGGED 1991-2001
Half A World Away

Disturbance At The Heron House

Radio Song

Low

Perfect Circle

Fall On Me

Belong

Love Is All Around

It's The End Of The World As We Know It (And I Feel Fine)

Losing My Religion

Pop Song 89

Endgame

Fretless

Swan Swan H

Rotary Eleven

Get Up

World Leader Pretend

All The Way To Reno

Electrolite

At My Most Beautiful

Daysleeper

So. Central Rain

Losing My Religion

Country Feedback

Cuyahoga

Imitation Of Life

Find The River

The One I Love

Disappear

Beat A Drum

I've Been High

I'll Take The Rain

Sad Professor
LINER NOTES:
MTV Unplugged Created by Jim Burns, Bob Small
Produced by Alex Coletti
Executive Producer: Bill Flanagan
Advisor: Bertis Downs
Project Curator: Sig Sigworth
Project Management for MTV: Alex Young
Project Management for R.E.M.: Kevin O'Neil
Mastered by Chris Bellman at Bernie Grundman Mastering
Package Design by Chris Bilheimer and Michael Stipe
R.E.M. is grateful for the steadfast support of MTV's Judy McGrath, Tom Freston, Van Toffler and Bill Flanagan.
1991
R.E.M.
Bill Berry
Peter Buck
Mike Mills
Michael Stipe
with
Peter Holsapple
Tour Manager: David Russell
Audio Engineer: Scott Litt
Band Support: Chris Edwards
Equipment Technicians: Mark Mytrowitz (Microwave), Bill Thompson
MTV:
Produced by Alex Coletti
Directed by Milton Lage
Production Executives: Jim Burns, Bob Small
Executive Producer: Joel Gallen
Production Manager: Audrey Johns
Associate Producer: Melissa Forman
Associate Director: Beth McCarthy
Director Technical Operations: Laurie Gershgorn
Lighting Designer: Alan Adelman
Audio Mixer: David Vanderhayden
Art Direction: Carol Field
Stage Manager: Joe Perota
Technical Manager: Nick Varacalli
Technical Director: Mitch Geller
Cameras: Charlie Huntley, Jake Ostroff, Manny Rodriguez, Tom Ucciferri, Steve Yaconetti
Video: Matty Randazzo
Audio: Al Centrella, Fritz Lang
Monitor Mixer: Jeremy Darby
CAMremote Technician: Ernie Jew
Crane Grips: Bruce Balton, Rob Balton
Tape Operator: Jack Roche
Utility: Kelly Brit, Drory Yellin
Grip: Jackson
Editor: Wayne Stevenson
Assistant Editor: David Ellsworth
Talent Artist Relations: John Cannelli, Joni Abbott
Instrument Coordinator: John Lynn
Make Up: Patricia Regan
Production Assistants: Ed Capuano, Greg Choa, Karen Frank, Anne Marie Gaynor, Jay Hening, Don Jamieson, Chris Johnston, Kelly Lynch, Loren Lyons, Chris McGhee, Audrey Morrissey, Valerie Sheppard, Robert Toughey
Staging Services: Terzi Staging, Bob Medve,
Tommy Robinson
Interns: Jenette Prymas, John Wroten
Director of Facilities: Cynthia Fuchs
Original broadcast aired by Westwood One/WNEW FM.
2001
R.E.M.
Peter Buck
Mike Mills
Michael Stipe
with
Scott McCaughey
Ken Stringfellow
Joey Waronker
Tour Manager: Bob Whittaker
Audio Supervisor & Remixer: Pat McCarthy
Audio Engineer: Jamie Candiloro
Front of House Audio: Terry Pearson
Equipment Technicians: DeWitt Burton,
Andy Wolf, Bob Weber
Press Coordinator: Dave Dannheisser
Band Support: Collen Combs, Shannon Bilotti,
Sharon Zadanoff
Production Manager: Richard Adams
Monitor Engineer: Emmanuel Goodwin
Lighting Designer: Susanne Sasic
Lighting Director: Bruce Ramus
Lighting Engineer: Firmin Moriarty
Lighting Tech: Mark Hitchcock
Sound Engineer: Joe O'Herlihy
Security: Chris Louden, Steve Sullivan
Production Manager: Bill Rahmy
Tour Accountant: Craig Sneiderman
Clair Bros. Audio: Don Garber & Clifford Downey
MTV
Produced & Directed by Alex Coletti
Executive Producers: Alex Coletti, Dave Sirulnick
Production Manager: Matthew Parillo
Technical Manager: Paul Cox
Lighting Designer: Christopher Landy
Production Designer: Tom McPhillips
Associate Director: Eve Adair
Staging Supervisor/Band Supervisor: Cap Spence,
Night Watch Management
Editor: Jon Vesey
Assistant Editor: Nate Pommer
On-Line Editor: Christine Mitsogiorgakis
Post Production Supervisor: Cedric Foster
Stage Manager: Mike Kilkenny
Gaffer: Everton Stuart
Technical Director: Lori Gallati
Video Engineer: Billy Steinberg
Video Tape: Gene Bashinelli
Cameras: Rob Feder, Manny Guiterrez, Jay Kulick, Lynn Noland, Ron Rigoli, Mark Whitman
Music Mix Provided by John Harris Effanel
Audio Post: Sue Pelino
Audio Engineer: Todd Kilponen
P.A. Mix: Jim Hores, Emmanuel Goodwin
Audio Assists: Mike Fortunato, Ron Lantz, Mike Pannone
Dolly Grip: Ron Griffith
Utilites: Pat Duffy, Stu Foreman, Rob Neff,
Charles Richardson, Richie Wirth
Moving Light Operator: Ian Guarneri
Viacom Technical Operations: Ed Nakashian
Engineer: Jim Brizzolara, J.C. Castro
Coordinator: Anne Chatterton
Director Studio Production: Joelle Charlot Duffy
Studio Manager: Kristi Knight
Engineer in Charge: Al Rider
Scheduling: Mona Yip
MTV Music & Talent: Tom Calderone
Production Events: Kathy Flynn, Dara Rothenbiller, Clare Wool
Business Manager: Lori Corbett
Law & Business Affairs: Lance McPherson
Production Associate: Nicola Darrach
Production Assistants: Caroline Answell, Dan Burt,
Wednesday Kaplan, Matt Makar, Brendan Pedder
Head Carpenter: George McPherson
Stagehands Provided by Top Knotch, Inc.
Set Construction: Atomic Design
Make-Up: Elisa Middleton
S.O.S. Security: Adam Good, Derek Roundtree