Today is a very special anniversary for R.E.M. On December 12, 1990, a Dutch photographer by way of London, who had already made a name for himself (Anton Corbijn) photographing a wide spectrum of bands including Joy Division, Depeche Mode, and U2, travelled to sleepy Athens, GA, to shoot R.E.M. for the first time. Photos from the session would be used for Spin Magazine's cover story on the band to coincide with the release of Out Of Time which would be released three months later in March 1991. Many of the photos from that session and others are iconic in R.E.M. visual history and the one displayed here of the band by the old house is Anton's personal favorite from December 12th. Fittingly, Anton's photo of Michael (further below) became the cover for the "Losing My Religion" single, and the rest, as they say, is history.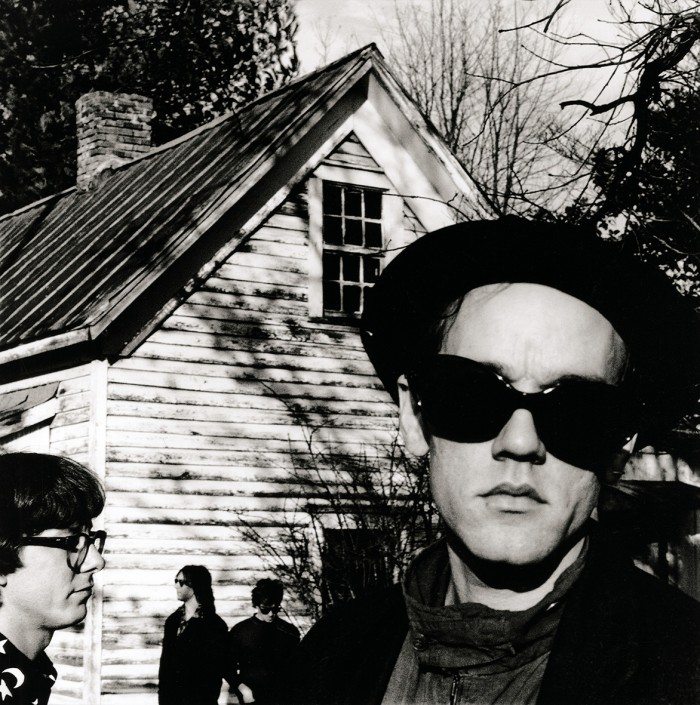 In recognition of the anniversary of the first shoot (and in appreciation of and respect for the man and the artist), each of the band members took a moment to write something in tribute to Anton.
Bill Berry:
All of our sessions with Anton were a breeze and a joy.  He made few demands, let us be ourselves and changed locations often.  This lent itself to an enjoyable day for us and offered a wide selection of images from which to cull.
Peter Buck:
Anton always managed to find the truth of the band, the closeness, the distance physically and emotionally between us, all while making us look good.
Mike Mills:
Anton took one of my least favorite parts of the job (photo sessions) and made them something to look forward to, because there would always be laughter, surprises, and, at the end, beautiful pictures that still remind me of what a wonderful life I've had.
Michael Stipe:
Anton is the only photographer I have ever worked with who has perfect contact sheets.  He cannot take a bad picture, it's extraordinary.
Along with that perk, he brings lightness, goofiness and levity to the experience of being photographed, and to the final work. He is a 21st century genius.
Bertis Downs:
Anton got many of the shots that defined moments in the band's career—his photographs could be serious and often had a somberness to them, but he has a tremendous sense of humor, another quality that often came through whenever he photographed Berry, Buck, Mills and Stipe.  And he worked fast, definitely an advantage in band favorite polling. Anton is a wonderful human being we were blessed to work with all those years.
(photo of Michael Stipe used for "Losing My Religion" single sleeve); photo further below is a promotional shot…