Flashback to Vienna, 1995–R.E.M. good friend Klaus Hoffmann recalls some favorite moments:
Today is the 22nd anniversary of R.E.M.'s first ever show in Austria at Happel Stadium, Vienna. It was a hot summer's day with the Cranberries and Belly opening for the band. I did not see much of those two, but have vivid recollections of my 2nd ever R.E.M. show (the first being the unfortunate Lausanne gig) in '95; "Undertow" was just incredible, so was "Finest Worksong" and "ITEOTWAWKI." And my, lest I forget, "So Central Rain." Awesome. Muddy sound, stadium's fault. Lots of echoing.
I've included a photo of the award we presented as well as a shot of Michael during said show (c: Kurier).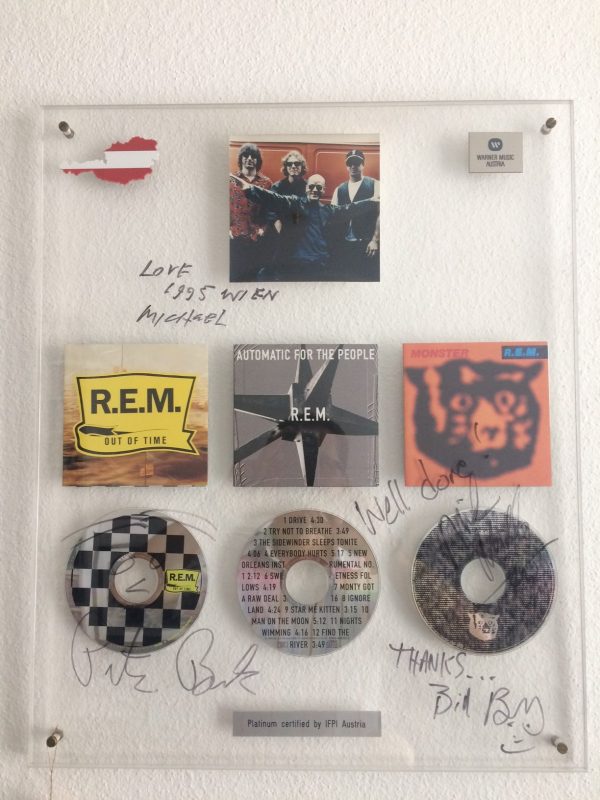 Here's what the band played that day (courtesy the R.E.M. Timeline):
set: What's The Frequency, Kenneth? / Crush With Eyeliner / Circus Envy / Turn You Inside-Out / Try Not To Breathe / Bang And Blame / Undertow / I Took Your Name / Strange Currencies / I Don't Sleep, I Dream / Revolution / Tongue / Man On The Moon / Country Feedback / Star Me Kitten / Losing My Religion / Pop Song 89 / Finest Worksong / Get Up / Star 69
encore: Let Me In / Everybody Hurts / So. Central Rain (I'm Sorry) / Departure / It's The End Of The World As We Know It (And I Feel Fine)