It was a very fun and musical night in downtown Toronto at the stately Roy Thomson Hall as Mike Mills premiered his Concerto for Rock Band, Violin and String Orchestra with the help of his old friend, the magnificent Robert McDuffie, plus his newly constituted band of Athens friends and pros William Tonks, Patrick Ferguson and John Neff, and of course a host of new friends, the revered conductor Peter Oundjian and members of the Toronto Symphony Orchestra.
The evening, dubbed Late Night with the TSO, had three parts: an opening set on the plaza by the Massey Hall Band, playing R.E.M. songs, of course— it was lovely scene out on the plaza of the hall,  in the gloaming as the air cooled— and  the audience loved the familiar melodies and new arrangements,  some of which were truly exceptional;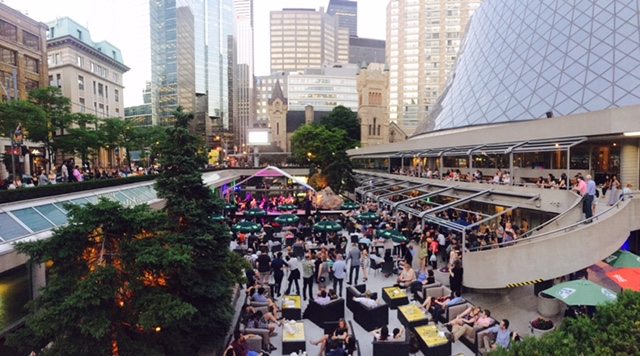 And then the crowd entered the venue and the serious classical music ensued with Beethoven's Eroica Symphony presented as the first half of the program;  then an intermission for set changeover, backline installed on the stage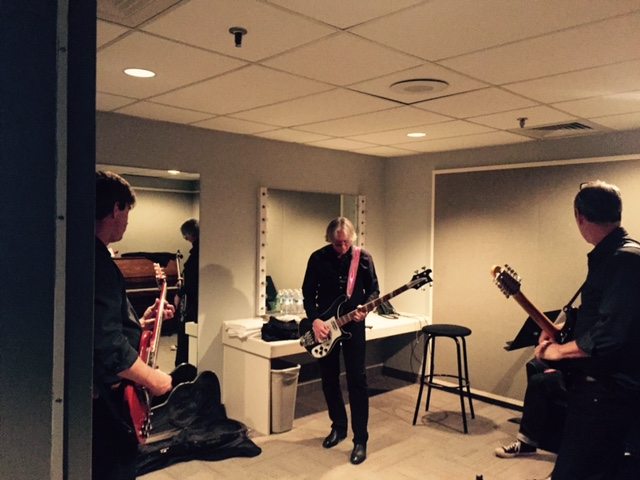 (l-r) John Neff, Mike Mills, William Tonks, one last run-through!
And then, the next thing you knew, Mike and Bobby, old friends since church choir days back in Macon GA, and some serious, and seriously beautiful, rock music cranked up.  It worked, with various movements, some hard rocking and uptempo, some more ballad-like, even lilting waltz-tempos. And from the enthusiastic standing ovation at the end of the concerto, it's clear that crowd thoroughly enjoyed the concert. Me too!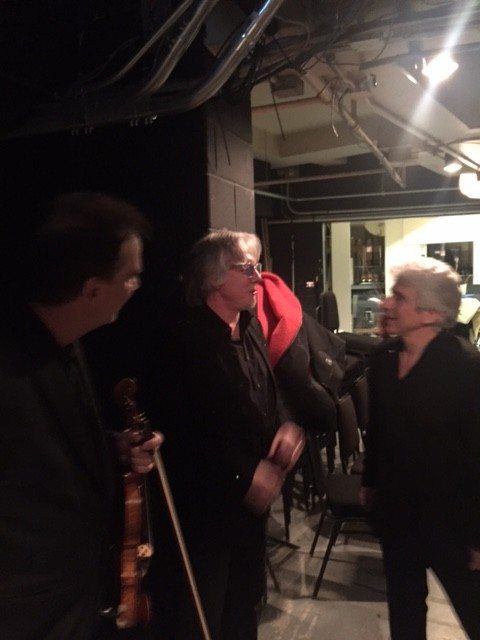 (l-r) Robert McDuffie, Mike Mills, Peter Oundnian, just after the final bow 
I will leave it to other forms of old and new media to convey the character of the music— I feel inadequate in this inherently difficult role other than to say it is truly music worth hearing . . . but I will add that those near Rome and Aspen should be sure to check out upcoming performances of this ambitious new work of rock and classical music.  And more to come in the autumn as plans are being finalized now.  I was so proud of Mike for pulling this off.  It was a project many years in the offing and a couple of good years of work in putting it together— and I hope it visits a town near you so you can come hear it too!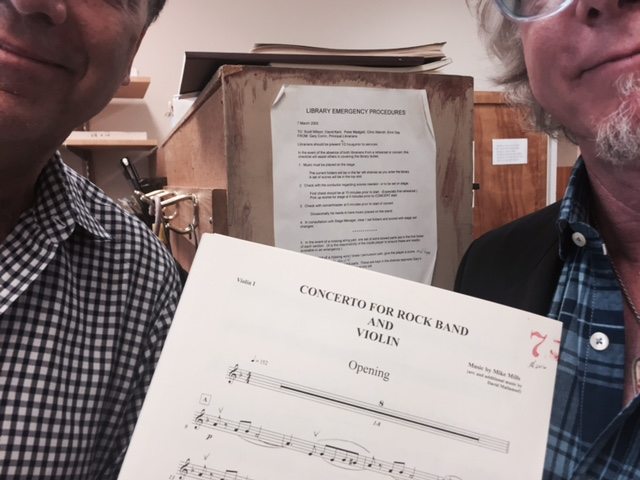 Bravo Mike; bravo Bobby and all the other people who made this happen— onward to Rome!
Bertis