The 25th anniversary edition of R.E.M.'s Up is OUT NOW! Available on Deluxe 2-CD + 1-Blu-Ray, 2-LP, 2-CD, digital, and hi-res audio formats. 🆙🎉 Grab your copy HERE.
Read the press release below:
November 10, 2023—Craft Recordings is celebrating the 25th anniversary of R.E.M.'s bestselling 11th studio album Up with a series of expanded and remastered reissues, all of which are available to purchase/stream now. Created in partnership with the band, the Deluxe 2-CD/1 Blu-Ray edition offers a wealth of material for fans, including the band's previously unreleased set from their guest appearance on the hit TV series "Party of Five." Captured in 1999, the performance includes an 11-song setlist—including enduring hits like "Man on the Moon," "Losing My Religion," and "It's the End of the World as We Know It (and I Feel Fine)"—plus a spoken-word introduction. The accompanying Blu-ray features HD music videos from the 1998 album ("Daysleeper," "Lotus" and "At My Most Beautiful"), a six-song
performance from the era (titled Uptake) recorded in a London studio, the album's original EPK film This Way Up by filmmakers Emer Patten and Nick Wickham, plus stunning hi-resolution and 5.1 surround sound audio. Housed in a 32-page hardcover book, the collection also includes new liner notes from journalist and Talkhouse Executive Editor Josh Modell (A.V. Club, SPIN, Rolling Stone, Vulture) featuring new interviews with the band members.
Bassist Mike Mills recently discussed the band's work on the record and reissue with Rolling Stone—read the story HERE—while UPROXX notes that the reissue casts "a new spotlight on R.E.M.'s most underrated LP" and hails Up as a "truly great LP…perhaps the best and truest rock album ever about processing the trauma of your friend leaving the band you started together." The Associated Press goes on to call Up "a curious and challenging collection that…reveals more interesting things with each listen," and American Songwriter raves that Up is a "strange and beautiful album…an exquisite piece of experimentalism from a band reinventing in front of an audience—loyal and loving—and may be the peak of their journey from Athens, Georgia."
The expanded reissue, which features the album plus the "Party of Five" performance in its entirety, is also available in 2-CD, digital and hi-res configurations, while the 14-track, 2-LP album will be reissued on 180-gram vinyl. Commemorative Up merchandise is also available exclusively at R.E.M.'s official store. All reissue formats feature newly remastered audio by Bob Ludwig at Gateway Mastering.
R.E.M.'s appearance on "Party of Five" (which launched the careers of Matthew Fox and Neve Campbell, among others) remains a fond memory. "The intersection of visual and musical art is always interesting, so it was cool to be a part of TV," recalls Mills.
The intimate concert, recorded at Los Angeles' Palace Theatre, was populated by R.E.M. fan club members and served as an opportunity for the band to rehearse their latest material—plus beloved hits—ahead of touring. "There are dozens of great R.E.M. live sets out there, but nothing quite like this up-close oddity," writes Josh Modell. "Loose and happy, the band runs through a good chunk of Up in front of a small crowd…Stipe is chatty, telling stories about accidentally ripping off Billy Corgan (and telling Corgan about it), playing with the Human League on a funny stage at that very venue, and more."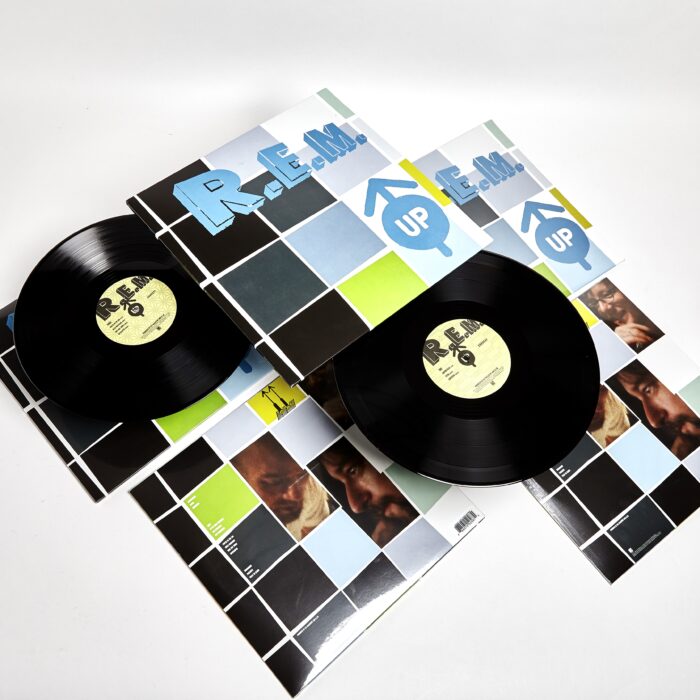 UP 25TH ANNIVERSARY TRACKLISTS:
Deluxe Edition (2-CD/1-Blu-Ray):
Disc 1 – Up (remastered audio)
Airportman
Lotus
Suspicion
Hope
At My Most Beautiful
The Apologist
Sad Professor
You're In The Air
Walk Unafraid
Why Not Smile
Daysleeper
Diminished
Parakeet
Falls To Climb
Disc 2 – Party of Five Recording
Introduction
What's The Frequency, Kenneth?
Lotus
Daysleeper
Country Feedback
Walk Unafraid
Losing My Religion
Parakeet
The Apologist
It's The End Of The World As We Know It (And I Feel Fine)
I'm Not Over You
Man On The Moon
Disc 3 – Blu-ray
Up – 5.1 Surround Sound
Up – Hi-Resolution Audio
This Way Up (press kit)
Uptake (six-song performance)
Daysleeper (music video)
Lotus (music video)
At My Most Beautiful (music video)
Expanded Edition (2-CD/Digital):
Disc 1 – Up (remastered audio)
Airportman
Lotus
Suspicion
Hope
At My Most Beautiful
The Apologist
Sad Professor
You're In The Air
Walk Unafraid
Why Not Smile
Daysleeper
Diminished
Parakeet
Falls To Climb
About R.E.M.:
Having established a powerful legacy as one of the most enduring and essential rock bands in popular music history, R.E.M. pioneered the alt-rock movement of the '90s, influencing the likes of Radiohead, Nirvana, Pavement and Pearl Jam. Formed in 1980, the group enjoyed an extraordinary three-decade-long run of creative vitality and multi-platinum sales before amicably disbanding in 2011. Despite great success, the band members never lost track of their core values—remaining outspoken in their views about political, social, and environmental issues, and never wavering when it came to artistic integrity. Throughout the course of their career together R.E.M. released a total of 15 studio albums, won three GRAMMY® Awards and were inducted into the Rock and Roll Hall of Fame in 2007.
About Craft Recordings:
Craft Recordings is home to one of the largest and most essential collections of master recordings and compositions in the world. Its storied repertoire includes landmark releases from icons such as Joan Baez, John Coltrane, Creedence Clearwater Revival, Celia Cruz, Miles Davis, Isaac Hayes, John Lee Hooker, Little Richard, R.E.M., Joan Sebastian and Traveling Wilburys.
For more information, please contact
Joe Cohen or Carla Sacks at Sacks & Co., 212.741.1000,
joe.cohen@sacksco.com or carla@sacksco.com.